First steps: how to launch a catering business?
Often people don't start their own business just because they don't understand how to work with documents or a business plan. The first and important stage is to ask yourself whether you are ready for this direction and the business as a whole. Cooking is a huge responsibility for people's health, for the status of the customer, for the brand of the company. Are you ready to feed people, create joy, decorate tables and enjoy it? Are you ready to give more than is expected of you?
Business models of catering business
There are several options for how to organize the business itself. It all depends on your capabilities and desire to develop. What business models of catering can be:
the intermediary company between the cafe and the client is the resale of ready-made food and the organization of delivery to events;
own kitchen, where the business owner cooks food himself and delivers it to events;
organization of a professional kitchen with staff — with this model, it will be possible to serve field events, and not only to deliver ready-made food.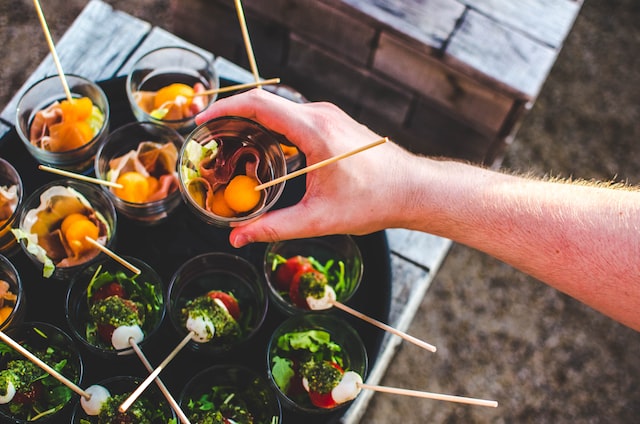 Catering Business plan
In order to properly organize a business and choose a suitable model for work, you need a business plan of a catering company to assess profitability and payback calculations of the business.
What sections should be in the catering business plan?
Your business plan should involve the description of the business and its relevance, where you need to write about the business itself: how many employees are planned, what kind of work model, work schedule, etc.
Pay attention to the concept and marketing; describe the format of catering, the features of the concept and other "chips" that will distinguish you from competitors. Here you also need to think over a marketing strategy for a couple of months and pay special attention to the advertising campaign for starting a business.
The financial section and risk analysis are the main sections of the business plan, where the costs of starting a business are calculated, and the budget results are summed up. Here you also need to think about what risks there may be when opening a catering or during its operation. For example, you need to take into account the fact that the equipment may break down — you must have a reserve of money that can be spent on its repair.
In order to start a business in the field of catering, you need to obtain a permit and license. In the UK, you need to register your business through a government website a month before it opens. Also, a rating of food products will be required for the continuous operation of the business. In this case the environmental consultant will help; he can also inspect your kitchen.